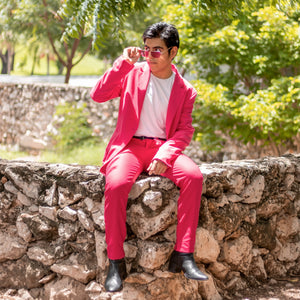 When to Don a Suit and When to Dazzle in a Tuxedo
Dapper Distinction: When to Don a Suit and When to Dazzle in a Tuxedo

In the world of men's fashion, two classic ensembles stand as timeless symbols of sophistication and style: the suit and the tuxedo. These meticulously crafted outfits have graced countless occasions, each offering a distinct aura that complements the event's formality and ambiance. Whether you're navigating the labyrinth of formal attire or simply seeking sartorial advice, here's a breakdown of when to don a suit and when to dazzle in a tuxedo.

The Versatile Suit: A Canvas of Elegance

The suit is a cornerstone of men's fashion, celebrated for its versatility and adaptability. It's the go-to choice for a wide range of occasions that demand a touch of refinement:

1. Business and Professional Events: From meetings to conferences and presentations, a well-fitted suit exudes professionalism and conveys a sense of competence. Opt for classic colors like navy, charcoal, or medium gray, and pair with a crisp dress shirt and tie.

2. Weddings (Guests): For most weddings, a suit strikes the perfect balance between formal and comfortable. Coordinate your suit's color with the wedding's theme or season. A three-piece suit can add an extra touch of elegance.

3. Semi-Formal Gatherings: Cocktail parties, fancy dinners, and other semi-formal occasions call for a suit. You can experiment with patterns and textures to inject personality into your ensemble while maintaining a polished look.

4. Job Interviews: First impressions matter, and a well-fitted suit can make a powerful one. Choose a conservative look with neutral tones and avoid distracting accessories.

5. Graduations: Celebrate academic achievements with a suit that reflects your newfound professional identity. A tie and dress shoes complete the polished look.

The Opulent Tuxedo: Elegance at its Zenith

For events that require the epitome of sophistication, the tuxedo reigns supreme. The tuxedo's design and accouterments make it the pinnacle of formalwear, suitable for occasions that warrant an aura of grandeur:

1. Black-Tie Galas: The quintessential tuxedo occasion. When an invitation reads "Black Tie," reach for a black tuxedo with satin lapels, a white dress shirt, a black bowtie, and patent leather shoes. This attire is the hallmark of upscale events.

2. Formal Weddings (Groom and Attendants): If you're the groom or part of the wedding party, a tuxedo exudes regality. A black tuxedo is the classic choice, but midnight blue and dark shades can also be stunning.

3. Opera, Theater, and Ballet Performances: When attending cultural events of this caliber, embrace the tuxedo's elegance to match the artistic splendor.

4. Awards Ceremonies and Premieres: Stepping onto the red carpet demands nothing less than a tuxedo. It signifies your participation in an elite gathering and showcases your fashion savvy.

5. New Year's Eve Galas: Ring in the new year in style by donning a tuxedo. It's the perfect way to bid adieu to the old and embrace the new with panache.

In conclusion, both the suit and the tuxedo are masterful expressions of a gentleman's style. The occasions on which to wear each are distinct, allowing you to tailor your outfit to the event's level of formality and ambiance. Whether you choose the versatility of a suit or the opulence of a tuxedo, remember that confidence is the key accessory that truly completes any ensemble. So, step into your chosen attire, stand tall, and let your sartorial elegance shine through, whatever the occasion may be.
---