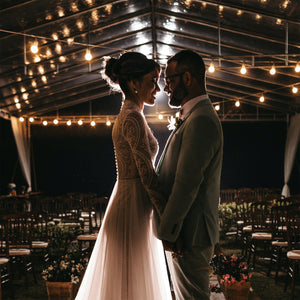 What to Wear to a Black-Tie Event: A Complete Guide to Dressing for the Occasion
What to Wear to a Black-Tie Event: A Complete Guide to Dressing for the Occasion
Dressing for a black-tie event can be a daunting task, but it doesn't have to be. With a little preparation and some helpful tips, you can look your best and feel confident at any formal occasion. From tuxedos to dress shoes, here's a complete guide to dressing for a black-tie event.
First things first, let's define what a black-tie event actually is. Generally speaking, black-tie events are formal occasions that require guests to dress in elegant and sophisticated attire. This can include weddings, galas, charity events, and other high-end social gatherings. The dress code for a black-tie event is typically indicated on the invitation, so be sure to read it carefully.
Now, let's dive into the details of what to wear to a black-tie event.
The Tuxedo
A tuxedo is the traditional and most formal option for a black-tie event. A classic black tuxedo with satin lapels, pants, and a bow tie is the perfect choice. Make sure to choose a tuxedo that fits you well and is comfortable to wear. If you don't own a tuxedo, consider renting one from a formal wear shop.
Dress Shoes
Black dress shoes are the most appropriate choice for a black-tie event. Opt for patent leather or velvet loafers with a satin trim. Make sure to break them in before the event to avoid discomfort.
Accessories
Keep your accessories simple and elegant. A black satin bow tie, cufflinks, and a pocket square are classic choices. Avoid flashy accessories, large watches, or other distracting elements. If you're unsure about what accessories to wear, consider consulting with a stylist or asking a friend for advice.
Dress Socks
Don't forget about your socks! Black dress socks that match your shoes are a must. Avoid patterns, and make sure they are long enough to not show any skin when sitting down.
Dress Code Exceptions
Some black-tie events may allow for a dress code exception, such as a black suit instead of a tuxedo. If you're unsure, ask the event host or planner for clarification.
Dress Etiquette
Remember to maintain proper dress etiquette throughout the event. Keep your jacket on until it's appropriate to remove it, and don't unbutton your shirt. When sitting down, unbutton the bottom button of your jacket to avoid creasing.
In conclusion, dressing for a black-tie event requires a classic and formal approach. Keep your attire simple and elegant, and remember to maintain proper dress etiquette throughout the event. With these tips, you'll be dressed to impress at any black-tie occasion. Don't be afraid to ask for advice or consult with a stylist if you're unsure about what to wear. Ultimately, the most important thing is to feel confident and comfortable in your attire, so you can enjoy the event to the fullest.
---