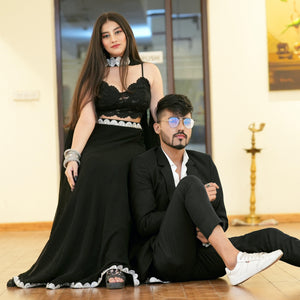 What to wear on Prom Night?
What to wear on Prom Night?
Attention all high school students preparing for prom night! Are you stressing over what to wear to the biggest event of the year? Do you want to stand out and make a lasting impression on the dance floor? Look no further!
Here are the best tips for what to wear on prom night:
Dress for the occasion - Prom is a formal event, so dress appropriately. For guys, that means wearing a suit and tie, while for girls, a formal dress is the go-to option. Look for dresses in classic styles that flatter your body type, and consider colors that complement your skin tone.

Accessorize wisely - Add some personality and style to your prom outfit with well-chosen accessories. For guys, a pocket square, tie clip, and cufflinks can make all the difference. For girls, a statement necklace, clutch, and earrings can elevate your look.

Pay attention to grooming - Good grooming is just as important as the outfit itself. Get a haircut, shave, or trim your facial hair, and make sure your skin is clear and moisturized. Ladies, experiment with hairstyles and makeup to complete your prom look.

Choose comfortable shoes - Dancing is a big part of prom night, so choose shoes that are comfortable and won't hurt your feet. For guys, opt for dress shoes that you've broken in beforehand. For girls, consider a lower heel or even flats.

Coordinate with your date - If you're attending prom with a date, coordinate your outfits to complement each other. This doesn't mean matching exactly, but rather choosing colors and styles that work well together.
So there you have it! With these tips, you'll be the best-dressed couple at prom and make a lasting impression. Don't wait, put them into practice on that day!
**Extra Tip
Prom night is a special occasion, and choosing the perfect outfit is key to feeling confident and stylish. For guys, a classic suit or tuxedo is always a great option. Look for a well-fitting suit in a traditional color like black or navy, and pair it with a crisp white dress shirt and a coordinating tie. A tuxedo is an even more formal option, typically worn with a bow tie and cummerbund. Finish the look with dress shoes and a sleek watch. If you want to add a pop of color or pattern to your outfit, consider incorporating it into your tie or pocket square. And remember, the most important thing is to choose an outfit that makes you feel comfortable & confident, so you can enjoy the night to the fullest.
---