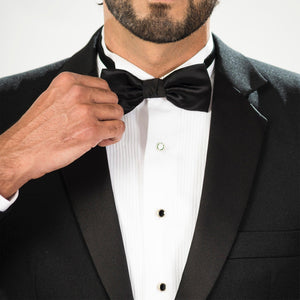 What Is A Tuxedo Shirt & How To Wear One?
What Is A Tuxedo Shirt & How To Wear One?
Tuxedos are the epitome of elegance and sophistication, making them the perfect choice for formal occasions such as weddings, black-tie events, and proms. When it comes to creating a complete tuxedo look, the shirt is just as important as the jacket, pants, and accessories. In this blog, we'll take a closer look at tuxedo shirts, including what they are and how to wear them.
What Is A Tuxedo Shirt?
A tuxedo shirt is a formal shirt that is specifically designed to be worn with a tuxedo. These shirts are typically made from high-quality fabrics such as cotton or silk, and feature several design elements that set them apart from regular dress shirts. The most notable feature of a tuxedo shirt is the presence of a wing collar, which is a high-standing collar that points upwards and is often accompanied by a pleated front.
How To Wear A Tuxedo Shirt
Now that we know what a tuxedo shirt is, let's take a look at how to wear one properly.
Collar
As mentioned earlier, a wing collar is the hallmark of a tuxedo shirt. This collar style is designed to be worn with a bow tie, which should be fastened tightly to prevent it from slipping or moving around. If you prefer a more contemporary look, you can also opt for a classic or spread collar, but be sure to choose a shirt that is specifically designed for a tuxedo.
Cuffs
Tuxedo shirts are typically available in two different cuff styles: French cuffs and convertible cuffs. French cuffs are the more traditional option, featuring a double-layered cuff that is folded back and fastened with cufflinks. Convertible cuffs, on the other hand, are a more modern alternative that can be worn either with or without cufflinks.
Buttons
The buttons on a tuxedo shirt are typically covered with fabric to create a seamless, elegant look. Some shirts may feature studs instead of buttons, which can add a touch of bling to your outfit. If you opt for studs, make sure they match your cufflinks and any other accessories you are wearing.
Fit
The fit of your tuxedo shirt is crucial to achieving a polished and put-together look. Your shirt should fit snugly without being too tight or restrictive, and should be long enough to tuck into your pants. Be sure to choose a shirt that complements your body type, and try it on with your tuxedo jacket to ensure a seamless fit.
Conclusion
A tuxedo shirt is a must-have item for any formal occasion, and with the right styling, it can elevate your look from ordinary to extraordinary. When choosing a tuxedo shirt, be sure to consider the collar, cuffs, buttons, and fit to ensure that you look and feel your best. So the next time you have a black-tie event on your calendar, remember to reach for your trusty tuxedo shirt to create a timeless and elegant look that is sure to turn heads.
---