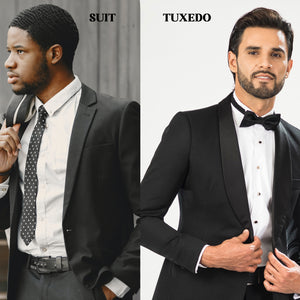 Tuxedo or Suit? Making the Right Choice for Prom
Tuxedo or Suit? Making the Right Choice for Prom
Prom is a special occasion that calls for dressing up in your finest attire. But with so many options available, it can be confusing to choose between a tuxedo and a suit. In this blog, we'll guide you through the decision-making process so you can make the right choice for prom.
First, let's talk about the difference between a tuxedo and a suit. A tuxedo is a more formal option than a suit and is typically reserved for black-tie events. It features satin lapels and a satin stripe down the side of the pants. A suit, on the other hand, is less formal and can be worn to a variety of occasions.
Now, let's consider the dress code for prom. Most proms have a dress code that requires formal attire, but not necessarily black tie. This means you have the option to wear either a tuxedo or a suit. If you want to be more formal, choose a tuxedo. If you want to be slightly more relaxed, choose a suit.
Next, consider your personal style. Do you prefer a classic, timeless look or something more modern and trendy? Tuxedos are classic and elegant, while suits offer more variety in terms of style and color. Choose a style that reflects your personality and makes you feel confident.
Another factor to consider is comfort. Tuxedos can be restrictive and uncomfortable, especially if you're not used to wearing one. Suits, on the other hand, are more comfortable and easier to move in. If you want to dance the night away without feeling constricted, a suit might be the better choice.
Finally, consider your budget. Tuxedos can be more expensive than suits, especially if you're renting one. Make sure you factor in the cost of accessories like shoes, a shirt, and a tie when making your decision.
In conclusion, whether you choose a tuxedo or a suit for prom depends on the dress code, your personal style, comfort, and budget. Take your time to make the right decision and don't be afraid to ask for advice from a trusted friend or family member. Whatever you choose, wear it with confidence and enjoy your special night.
---