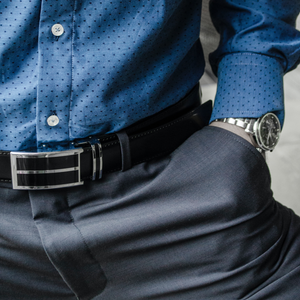 Tips on How to Wear a Belt with Your Suit
A belt is one of the most commonly used accessories for men's suits, but there are certain rules to follow when wearing one. The right belt can enhance your outfit and add an extra touch of sophistication. Here are some tips on how to wear a belt with your suit.
Match your belt to your shoes The color of your belt should match your shoes. For example, if you're wearing black shoes, choose a black belt. If you're wearing brown shoes, go for a brown belt. It's a simple rule, but it makes a big difference.

Choose the right belt width The width of your belt should match the width of your belt loops. If your belt is too narrow, it will look out of place, and if it's too wide, it will look bulky and unflattering. As a general rule, the width of your belt should be between 1.25 and 1.5 inches.

Wear your belt in the right position Your belt should sit at the same height as your waistband. It should be fastened snugly, but not too tight. If your belt is too loose, it will slip down and look sloppy. If it's too tight, it will be uncomfortable and create an unflattering bulge.

Consider the buckle The buckle is an important part of your belt, so choose one that complements your outfit. A simple, classic buckle is always a good choice for a suit, but you can also choose a more ornate design if you prefer. Just make sure it doesn't clash with the rest of your outfit.

Keep it simple When it comes to wearing a belt with your suit, less is more. Stick to classic styles and avoid anything too flashy or trendy. A simple leather belt in a classic color is always a safe choice.
In conclusion, wearing a belt with your suit can add an extra touch of elegance to your outfit. Just remember to choose the right color, width, and buckle, and keep it simple. With these tips in mind, you'll look stylish and put together every time you wear a suit with a belt.
---