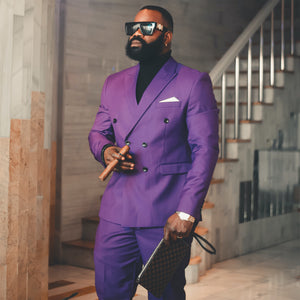 The Most Stylish Suit Trends of the Year 2023
As we welcome the year 2023, it's time to take a closer look at the latest suit trends. Whether you're a fashion-conscious gentleman or just looking to upgrade your wardrobe, knowing what's in style can help you make the right choices. In this blog post, we'll explore the most stylish suit trends of the year 2023.
Bold Colors
One of the biggest trends for suits this year is bold, bright colors. While black and navy suits will always be classic choices, the fashion industry is now embracing brighter hues like emerald green, cobalt blue, and deep purple. These bold colors make a statement and add a touch of personality to your outfit.
Statement Shoulders
Another trend that's making a comeback in 2023 is statement shoulders. Suits with strong shoulders create a powerful, masculine look and are perfect for formal occasions. Whether you opt for a double-breasted jacket or a single-breasted blazer with padded shoulders, statement shoulders are a trend to watch.
Oversized Fits
Oversized fits have been a popular trend in streetwear for several years, and now the trend is making its way into the world of suits. Oversized suits with loose-fitting jackets and wide-legged pants are comfortable and stylish, and they offer a fresh take on traditional suiting. When wearing an oversized suit, it's important to keep the rest of your outfit fitted to avoid looking sloppy.
Checked Patterns
While pinstripes and houndstooth patterns have been popular in the past, 2023 is all about checks. Whether you prefer bold windowpane checks or subtle gingham patterns, a checked suit is a great way to add texture and interest to your outfit. When wearing a checked suit, keep the rest of your outfit simple and let the pattern take center stage.
Turtlenecks
For a sophisticated and modern look, pair your suit with a turtleneck sweater. Turtlenecks are a versatile layering piece that can be dressed up or down, and they add a touch of sophistication to any outfit. Opt for a black or navy turtleneck with a bold-colored suit, or a neutral turtleneck with a checked suit.
Relaxed Dress Codes
Finally, one of the biggest suit trends of 2023 is the relaxed dress code. With more companies embracing casual dress codes, suits are no longer reserved for formal occasions. In fact, you can wear a suit to the office, a night out with friends, or even a weekend brunch. When dressing down your suit, opt for a lightweight fabric like linen or cotton and pair it with casual accessories like sneakers or a denim jacket.
Conclusion
The most stylish suit trends of 2023 are all about bold colors, statement shoulders, oversized fits, checked patterns, turtlenecks, and relaxed dress codes. Whether you prefer classic styles or more modern looks, there's a suit trend for everyone this year. So go ahead and experiment with different styles, colors, and fabrics to find the perfect suit for you.
---