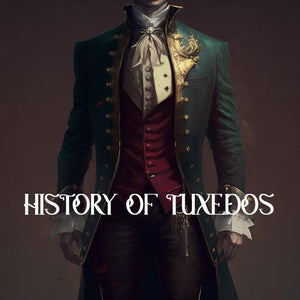 The Evolution of the Tuxedo: From Classic to Modern Styles
The Evolution of the Tuxedo: From Classic to Modern Styles
Tuxedos are a classic symbol of elegance and sophistication. They are the go-to attire for formal events such as weddings, black-tie galas, and award ceremonies. In this blog, we will explore the history of tuxedos, tracing back their origins and how they have evolved over time.
The Origin of Tuxedos
The history of tuxedos dates back to the late 19th century when a man named Henry Poole & Co. designed a tailcoat for the Prince of Wales. The tailcoat was a modified version of the traditional dress coat, which had a shorter front and long tails at the back. The tailcoat became popular among the British aristocracy and was worn to formal events.
In the 1880s, a group of young American men who had studied in England returned home and began wearing the tailcoat to social events. However, they found the tailcoat to be too formal for the casual American lifestyle. In response, they asked their tailor to create a less formal version of the tailcoat that they could wear to less formal events.
This less formal version of the tailcoat was called a dinner jacket or tuxedo, named after the Tuxedo Park Club in New York, where it was first worn. The tuxedo had a shorter jacket than the tailcoat, which was black in color and made of wool or silk. The pants were also black and made of the same material as the jacket.
Evolution of Tuxedos
Over time, the design of tuxedos evolved, and in the 20th century, the tuxedo became a standard attire for formal events. In the 1930s, the double-breasted tuxedo became popular, and it remained in fashion until the 1950s when the single-breasted tuxedo with a peaked lapel was introduced.
During the 1960s, the tuxedo became more colorful, and white tuxedos became popular for summer events. In the 1970s, the ruffled shirt became popular, and the tuxedo jacket became wider with wider lapels. The 1980s saw the introduction of the power tuxedo, which had broad shoulders and a boxy silhouette.
Modern-Day Tuxedos
Today, there are many styles of tuxedos that are worn by men and women, from classic black tuxedos to colorful tuxedos with unique patterns. Tuxedos are now available in a wide range of colors and materials, from velvet and wool to silk and linen. The modern-day tuxedo is designed to be versatile and can be dressed up or down, depending on the occasion.
In conclusion, the history of tuxedos is a fascinating one that has seen the design of the tuxedo evolve over time. From the classic black tuxedo to the modern-day colorful tuxedo, the tuxedo has become an integral part of formal fashion and continues to be worn by men and women all over the world.
---