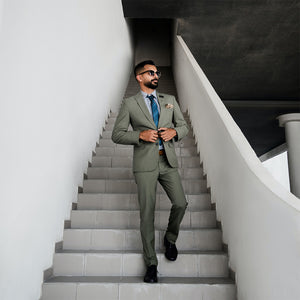 The Different Types of Suit Trousers and Their Characteristics
The suit is one of the most essential pieces of clothing in a man's wardrobe. However, not all suit trousers are created equal. There are various types of suit trousers, each with unique characteristics that can complement different body types and styles. Here are some of the different types of suit trousers and what makes them stand out:
Flat front trousers: This type of trousers has a flat front without any pleats or creases. They have a sleek and modern look and are perfect for men with slimmer body types.

Pleated trousers: Unlike flat front trousers, pleated trousers have one or more folds that create a crease in the front. They are ideal for men with wider hips and thighs as they provide more room in the seat and thigh area.

Slim-fit trousers: Slim-fit trousers are tapered at the bottom, giving them a modern and streamlined appearance. They are perfect for men with a slim or athletic build and pair well with tailored jackets.

Straight-leg trousers: Straight-leg trousers have a consistent width from the hip to the ankle. They are versatile and can be worn by men of any body type. They look great with a traditional suit jacket and dress shirt.

Wide-leg trousers: Wide-leg trousers have a more relaxed fit and are ideal for men who prefer a looser and more comfortable feel. They pair well with casual jackets and can be dressed up or down.
When choosing the right type of suit trousers, it's essential to consider the fit, fabric, and style. The fit should be comfortable and complement your body type, while the fabric should be appropriate for the occasion and season. Pairing the right trousers with your suit jacket can enhance your overall look and bring out your personal style.
In conclusion, suit trousers are not just functional clothing items but also fashion statements. Choosing the right type of trousers can complement your physique and elevate your style. With this guide, you're now equipped with the knowledge to make an informed decision when shopping for suit trousers.
---