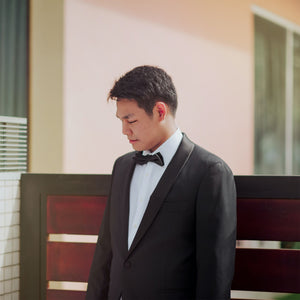 The Different Styles of Men's Tuxedos
The Different Styles of Men's Tuxedos:
When it comes to formal events, men have a variety of tuxedo styles to choose from, each with its own unique flair. Here are some of the most popular styles of men's tuxedos:
The Classic Tuxedo: This style features a single-breasted jacket with a satin shawl collar, matching satin trim along the jacket's lapels, and satin stripes down the trousers' sides. It's the most traditional and elegant option.

The Double-Breasted Tuxedo: This style has a more formal look than the classic tuxedo, with two columns of buttons on the front of the jacket. It's perfect for black-tie events and weddings.

The Peak Lapel Tuxedo: This style is characterized by a lapel that extends upward and outward from the collar to the shoulder. It's a more contemporary style and works well for both formal and semi-formal events.

The Shawl Collar Tuxedo: This style features a smooth, rounded collar that transitions seamlessly into the lapels. It's a sophisticated and versatile option that can work well for a variety of events.

The Mandarin Collar Tuxedo: This style features a stand-up collar without any lapels, giving it a sleek and modern look. It's perfect for fashion-forward grooms or for events with a more contemporary dress code.
When choosing a tuxedo, consider the occasion, your personal style, and your body type. With so many options available, you're sure to find a tuxedo that suits you perfectly.
---