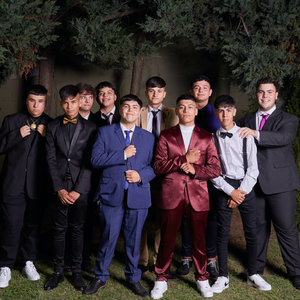 Prom Etiquette for Guys: A Guide to Being a Polished and Classy Date
Prom is one of the most important events in a high schooler's life. It's a night filled with glamour, excitement, and, of course, romance. As a guy, your job is to be a polished and classy date to your partner, which means knowing the proper prom etiquette. Here is a guide to help you navigate prom night with ease.
Dress Code
The first step to being a polished and classy date is to adhere to the dress code. Make sure you know what is expected of you in terms of attire, and dress accordingly. A suit or tuxedo is a must, and it's important to make sure it fits properly. Avoid wearing sneakers or other casual shoes, and opt for dress shoes instead.

Flowers
It's customary for the guy to bring his date a corsage or a bouquet of flowers. Make sure you know your date's favorite flower and color before making your purchase. Don't forget to bring the flowers with you when you pick up your date.

Transportation
Transportation is an important aspect of prom night. As the guy, it's your responsibility to arrange for transportation. Whether you're renting a limo, taking an Uber, or driving your own car, make sure you have a plan in place and that you arrive on time.

Manners
Manners are key when it comes to being a polished and classy date. Open doors for your date, pull out her chair, and make sure she has everything she needs. Be polite to everyone you encounter throughout the night, including your date, her friends, and the staff at the prom venue.

Dancing
Prom is all about dancing, and as the guy, it's important to lead your date on the dance floor. If you're not a great dancer, don't worry. Just make sure you're confident and have a positive attitude. Remember to ask your date to dance, and don't be afraid to hit the dance floor alone if she's taking a break.

Photos
Prom is a night to remember, so make sure you take plenty of photos. Take photos with your date, her friends, and your own friends. Don't forget to snap a few shots on the dance floor and in front of the prom decorations.

After-Prom Plans
Finally, make sure you have a plan for after-prom. Whether you're going to an after-party or just hanging out with friends, make sure you know where you're going and that it's safe and appropriate.
In conclusion, being a polished and classy date requires a bit of effort, but it's worth it. By following these simple prom etiquette guidelines, you'll be sure to impress your date and have a night to remember.
---