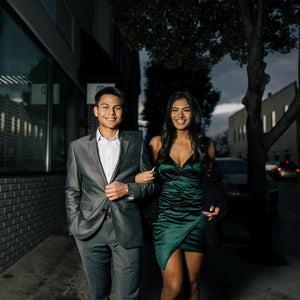 How to pick out your Suit or Tuxedo for Prom?
How to pick out your Suit or Tuxedo for Prom?
Prom night is one of the most memorable and exciting events in a high school student's life. It's a night to dress up, dance, and make memories that will last a lifetime. Choosing the perfect suit or tuxedo for prom can be a daunting task, but with a little bit of planning and preparation, you can make sure you look and feel your best on the big night.
Here are some tips on how to pick out your suit or tuxedo for prom:
Know the dress code: Before you start shopping for your suit or tuxedo, make sure you know the dress code for your prom. Some schools require a black-tie dress code, while others may allow for more casual attire. Understanding the dress code will help you narrow down your options and ensure you're dressed appropriately for the occasion.

Determine your budget: Suits and tuxedos can range in price from a few hundred to several thousand dollars. Determine your budget before you start shopping to avoid overspending or getting your heart set on something that's out of your price range.

Choose a style: There are many different styles of suits and tuxedos to choose from, including classic, modern, and slim fit. Think about the style that will best suit your body type and personal taste. You can also consider the theme of your prom or the colors of your date's dress to help you choose a complementary suit or tuxedo.

Get measured: A well-fitted suit or tuxedo will make all the difference in how you look and feel on prom night. Get professionally measured to ensure your suit or tuxedo fits perfectly. Make sure you allow enough time for alterations, if needed.

Consider the accessories: The right accessories can take your suit or tuxedo to the next level. Think about adding a tie, bowtie, pocket square, cufflinks, or a boutonniere to complete your look. Coordinate your accessories with your suit or tuxedo and your date's dress for a polished and put-together appearance.

Try everything on: Don't assume that a suit or tuxedo will fit you perfectly just because it's your size. Try everything on to make sure it fits well and feels comfortable. Move around, sit, and dance in your suit or tuxedo to make sure it's easy to move in and won't restrict your movements on the dance floor.

Have fun: Above all, remember that prom is supposed to be fun! Don't stress too much about finding the perfect suit or tuxedo. As long as you feel confident and comfortable, you'll look great no matter what you're wearing.
In conclusion, choosing the perfect suit or tuxedo for prom doesn't have to be a stressful experience. By knowing the dress code, determining your budget, choosing a style, getting measured, considering the accessories, trying everything on, and having fun, you can find a suit or tuxedo that will make you look and feel your best on prom night.
---