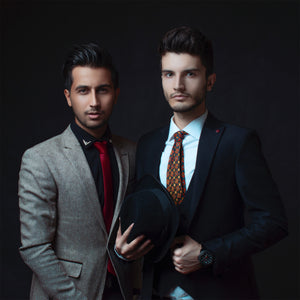 How to Choose the Right Shirt for Your Suit
A suit is undoubtedly one of the most versatile and elegant outfits that a man can wear. However, pairing the right shirt with your suit can be a tricky task, especially if you're not well-versed in the intricacies of men's fashion. In this blog, we'll take a closer look at how to choose the right shirt for your suit, so you can look your best at any formal occasion.
Consider the Occasion The first thing you need to consider when choosing a shirt to wear with your suit is the occasion. If you're attending a formal event, like a wedding or a black-tie affair, then a classic white dress shirt is the safest and most appropriate choice. However, if you're attending a less formal event, like a business meeting or a casual dinner, then you have a little more room to play with different colors and patterns.

Choose the Right Fit The fit of your shirt is just as important as the fit of your suit. You want to make sure that your shirt is not too tight or too loose, as this can detract from the overall look of your outfit. Look for a shirt that fits snugly around the shoulders and chest, but still allows you to move freely.

Pay Attention to Collars The collar of your shirt can also make a big difference in how you look in your suit. There are several types of collars to choose from, including point collars, spread collars, and button-down collars. Point collars are the most classic and versatile option, while spread collars are best suited for men with longer necks. Button-down collars are less formal and more casual, and work well with less structured suits.

Don't Forget About Patterns and Colors Choosing the right color and pattern for your shirt is another important consideration. If you're wearing a solid-colored suit, then you can play around with different patterns and colors for your shirt. A patterned shirt can add a touch of personality to your outfit, while a bright or bold color can make you stand out in a crowd. However, if your suit is patterned, then it's best to stick with a solid-colored shirt to avoid clashing.

Pay Attention to Fabric Finally, pay attention to the fabric of your shirt. A high-quality cotton or linen shirt will not only look better, but will also feel more comfortable against your skin. Look for shirts that are made from natural materials, as these will breathe better and help regulate your body temperature.
In conclusion, choosing the right shirt to wear with your suit is just as important as the suit itself. By paying attention to the occasion, fit, collar, pattern, color, and fabric, you can ensure that you look your best and feel confident in any formal setting.
---