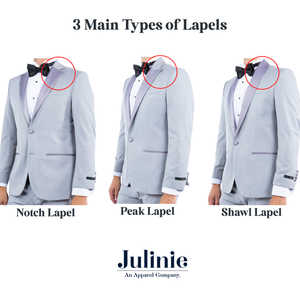 How to Choose the Right Lapel for Your Suit: Notch, Peak, or Shawl?
When it comes to choosing a suit, the lapel plays a significant role in determining the overall look of the ensemble. The lapel is the folded flap of cloth on the front of the jacket that lies flat or rolls back. There are three types of lapels – Notch, Peak, and Shawl – and each has its distinct style and purpose. In this blog, we will explore how to choose the right lapel for your suit and understand the differences between each.
Notch Lapel
The most common type of lapel is the Notch lapel. The lapel gets its name from the triangular notch where the lapel meets the collar. The notch lapel is a versatile style and can be found on both single and double-breasted jackets. This style of lapel is perfect for business and formal occasions.
Peak Lapel
The Peak lapel is an elegant style that is characterized by the upward point where the lapel meets the collar. This style of lapel is commonly found on double-breasted suits and adds a touch of sophistication to the overall look. Peak lapels are best suited for formal occasions like weddings and black-tie events.
Shawl Lapel
The Shawl lapel is a rounded lapel with no notches or peaks. It is commonly found on tuxedos and dinner jackets and is perfect for formal events. The Shawl lapel has a vintage feel and adds a touch of glamour to any ensemble.
Choosing the right lapel depends on the occasion, the style of the suit, and personal preference. If you are looking for a versatile lapel that works well for business and formal events, a Notch lapel is the perfect choice. If you are looking for a more elegant and sophisticated look, a Peak lapel is the right choice for you. And if you want to add a touch of glamour and vintage charm, a Shawl lapel is the perfect option.
In conclusion, choosing the right lapel for your suit can make all the difference in creating a polished and sophisticated look. Understanding the differences between the Notch, Peak, and Shawl lapels will help you make the right decision when choosing a suit for any occasion.
---