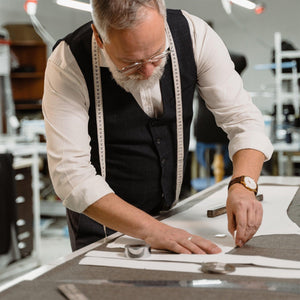 Choosing the Right Tuxedo Fabric
Choosing the Right Tuxedo Fabric
Choosing the right tuxedo fabric is crucial to creating a polished and elegant look. The fabric you choose can impact the way the tuxedo looks, feels, and performs in different situations. In this blog post, we'll discuss some of the most common tuxedo fabrics and what you should know before making a purchase.
Wool
Wool is the most common tuxedo fabric and for good reason. It's breathable, durable, and can be worn in a variety of different temperatures. Wool tuxedos come in different weights, so you can choose a lighter weight for warmer weather or a heavier weight for cooler temperatures. The fabric is perfect for formal occasions like weddings and black-tie events, but can also be dressed down for a more casual look.
Velvet
Velvet is a luxurious fabric that's perfect for formal occasions. It has a unique texture and a plush appearance that adds depth and dimension to any tuxedo. Velvet tuxedos are often seen in winter weddings and holiday parties. They also make a great statement piece at any event.
Satin
Satin is a smooth and shiny fabric that's commonly used for tuxedo lapels and accents. It's a great way to add a touch of elegance to any tuxedo without overpowering the overall look. Satin tuxedos are often used for proms and other formal events.
Tweed
Tweed is a thick and textured fabric that's perfect for winter events. It's warm and cozy, making it an ideal fabric for outdoor weddings or fall and winter events. Tweed tuxedos are often seen in rustic or vintage-inspired weddings.
Mohair
Mohair is a lightweight and breathable fabric that's perfect for summer events. It has a smooth texture and a subtle sheen that adds a touch of sophistication to any tuxedo. Mohair tuxedos are often seen in summer weddings and outdoor events.
When choosing a tuxedo fabric, it's important to consider the occasion, climate, and your personal style. Wool is a great all-purpose fabric, but if you're looking for a touch of luxury, velvet or satin may be more appropriate. Tweed is perfect for winter events, while mohair is ideal for summer occasions. Ultimately, the right fabric will depend on your personal preferences and needs, so take the time to explore your options and find the perfect tuxedo for you.
---