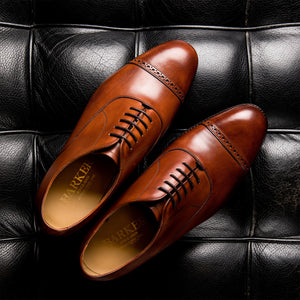 A Guide to Formal Footwear: Oxfords, Brogues, and Loafers - Choosing the Right Shoes for Every Occasion
Title: A Guide to Formal Footwear: Oxfords, Brogues, and Loafers - Choosing the Right Shoes for Every Occasion
Introduction: When it comes to formal attire, selecting the right footwear is crucial. Your choice of shoes can significantly impact your overall look and make a statement about your style and attention to detail. In this comprehensive guide, we will explore three classic styles of formal footwear: Oxfords, Brogues, and Loafers. We will delve into their distinguishing features, discuss when and how to wear each style, and provide styling tips to help you make the best footwear decisions for any occasion.
Oxfords: Oxfords are a timeless and versatile choice for formal footwear. They feature closed lacing, a sleek silhouette, and a low heel. Oxfords are known for their simplicity and elegance, making them suitable for a wide range of formal events. Whether you're attending a wedding, business meeting, or black-tie affair, Oxfords are a reliable choice that exudes sophistication and refinement.
Differentiating Factors: Plain-toe Oxfords have a clean, unadorned front, while Cap-toe Oxfords feature a stitched line across the toe cap. Wingtip Oxfords have decorative perforations (broguing) along the edges of the toe cap, giving them a more detailed and ornate look.

Styling Tips: Pair black Oxfords with a classic tuxedo for formal occasions. Brown or burgundy Oxfords can be worn with navy or charcoal suits for a polished business or semi-formal look.
Brogues: Brogues are known for their distinctive perforations or decorative patterns, called broguing, which add character and visual interest to the shoes. Originally designed as country footwear, brogues have evolved into a popular choice for both formal and semi-formal occasions. They offer a unique blend of classic elegance and casual charm, making them a versatile addition to any wardrobe.
Differentiating Factors: Brogues are available in various styles, including Full Brogues (wingtips), Half Brogues, and Quarter Brogues. Full Brogues feature broguing on the toe cap, sides, and heel, while Half Brogues have broguing on the toe cap and along the shoe's edges. Quarter Brogues have minimal broguing on the toe cap only.

Styling Tips: Brown or tan brogues pair well with earth-toned suits or tweed outfits for a sophisticated, yet relaxed look. Black brogues can be worn with dark suits or formal attire to add a touch of personality and flair.
Loafers: Loafers are a more modern and comfortable alternative to traditional lace-up shoes. They are slip-on shoes without laces, characterized by a low heel, a moccasin-style construction, and a versatile design that effortlessly transitions between formal and semi-formal occasions. Loafers are renowned for their convenience, versatility, and effortless elegance.
Differentiating Factors: Penny Loafers are a classic style that features a diamond-shaped cutout or slit on the front, traditionally used for holding a penny. Tassel Loafers have decorative tassels on the vamp, adding a touch of sophistication.

Styling Tips: Pair brown or burgundy loafers with chinos or dress trousers for a sophisticated casual look. Black loafers can be worn with a suit for a contemporary twist on formal attire.
Conclusion: Choosing the right formal footwear is essential for completing your outfit and making a lasting impression. Oxfords, Brogues, and Loafers are three classic styles that offer versatility, elegance, and individuality. By understanding their distinguishing features, considering the occasion and your personal style, and following the styling tips provided, you can confidently navigate the world of formal footwear and elevate your sartorial game. Remember, the right pair of shoes can truly make a difference in your overall appearance and boost your confidence in any formal setting.
---