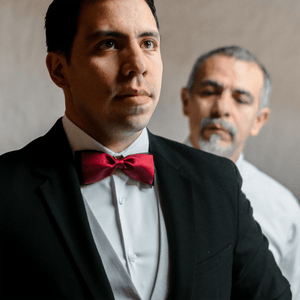 5 Essential Tips for Keeping Your Tuxedo in Top Condition
5 Essential Tips for Keeping Your Tuxedo in Top Condition
A tuxedo is a classic, sophisticated option for formal events, and it's important to take proper care of it to ensure it lasts for many occasions to come. Here are some essential tips for keeping your tuxedo in top condition:
Dry clean your tuxedo regularly. Tuxedos are typically made from delicate materials like wool or silk, which require special care. Professional dry cleaning is the best way to ensure your tuxedo is cleaned effectively without damaging the fabric.

Invest in a good hanger. Just like with a suit, a proper hanger is crucial for storing your tuxedo. Look for a hanger with a broad shoulder and curved shape to prevent wrinkles and misshaping.

Avoid wrinkling your tuxedo. When you're wearing your tuxedo, be mindful of how you sit and move to avoid creases and wrinkles. When you take it off, hang it up immediately to avoid any further wrinkling.

Brush your tuxedo regularly. Use a soft-bristled brush to remove surface dirt and dust, brushing gently in the direction of the fabric's grain.

Store your tuxedo properly. When you're not wearing your tuxedo, store it in a cool, dry place, ideally in a breathable garment bag. Avoid hanging your tuxedo in direct sunlight or near a heat source, as heat and light can cause the fabric to fade and degrade.
By following these simple steps, you can keep your tuxedo looking sleek and sophisticated for all your black-tie events. And if you're unsure about how to care for your specific tuxedo, consult with a professional dry cleaner or tailor for personalized advice.
---