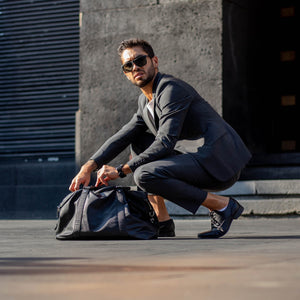 25 most important Suit Basics on How to Wear Your Suit
25 most important Suit Basics on How to Wear Your Suit
Check the fit: A well-fitted suit is essential to looking sharp and confident.

Focus on the shoulders: Make sure the shoulders of the suit jacket fit properly, with no bunching or pulling.

Check the jacket length: The jacket length should hit at the base of your thumb, with the sleeves falling right at your wrist.

Pay attention to the collar: The collar should rest flat against your neck, with no gaps.

Choose the right lapel: The width of your lapel should be in proportion to your body type.

Check the chest fit: The chest of the jacket should fit snugly but not be too tight or restrictive.

Get the waist fit right: The waist of the jacket should fit comfortably, with enough room to breathe.

Fasten your buttons: Always fasten the top button of a two-button jacket and the middle button of a three-button jacket when standing.

Match your tie length: Your tie should be long enough to reach your belt buckle.

Tuck in your shirt: Your shirt should be tucked in neatly and not bunched up.

Get the pants fit right: Your pants should sit comfortably at your waist, with enough room in the seat and thighs.

Check the length of your pants: The hem of your pants should just touch the top of your shoe.

Decide on the break: The break is the amount of fabric that bunches up at the bottom of your pants. Choose a break that works for your style and body type.

Choose the right socks: Your socks should match the color of your pants.

Pick the right shoes: Choose shoes that are appropriate for the occasion and match the color of your belt.

Accessorize with a pocket square: A pocket square can add a touch of elegance to your outfit.

Keep your tie in place: A tie clip can keep your tie from slipping around.

Add a watch: A watch can be a stylish and practical addition to your outfit.

Choose the right cufflinks: If you're wearing a dress shirt with French cuffs, choose cufflinks that match your style.

Make sure your suit is clean and pressed: A wrinkled or dirty suit can ruin your entire look.

Pay attention to your posture: Stand up straight and tall, with your shoulders back and your chin up.

Practice good grooming: Make sure your hair is neatly styled, your nails are trimmed, and your skin is clean and moisturized.

Don't forget the details: Small details like the color of your belt and the style of your tie can make a big difference.

Be confident: A well-fitted suit can make you feel confident and powerful, so wear it with pride.

Have fun: Don't be afraid to experiment with different styles and colors, and enjoy the process of finding the perfect suit.
---